Whats a paddle?
To start your canoe trip with Northern Lights, you'll need to be able to paddle a canoe. Flat water canoeing is one of the easiest situations available to learn the proper paddling techniques. Our canoe trip is all flat water canoeing.  There is no white water on this trip
MAPING: We provide you with a map and discuss the best routes. Knowing the type of trip you desire is very helpful. We do offer one, two and three day trips. We will leave you, well equipped, at one of our drop off spots and wave a big "hello" when we see you paddling back to our main dock, at the end of your 1, 2, or 3 day canoe trip. We will commonly request from you; number of people & days, canoeing experience, amount of travel & layover days preferred, and any interest in fishing, scenery and wildlife. Then we can offer suggestions based on that information. Large-scale maps, marked out with the best campsite, fishing spots and points of interest will be gone over before you head out on your wilderness adventure. We suggest that you take several copies of the map with you.
We run the trips from Mid May to Mid October, weather permitting. You can enjoy canoeing along the 40 miles; available on the WOLF and PICKERAL Rivers. Bask in scenic and picturesque waterways waiting for you to explore. You can camp along the way on mostly Crown Land in this unspoiled pristine wilderness. Come away refreshed, skilled and rejuvenated.
How to carry a canoe?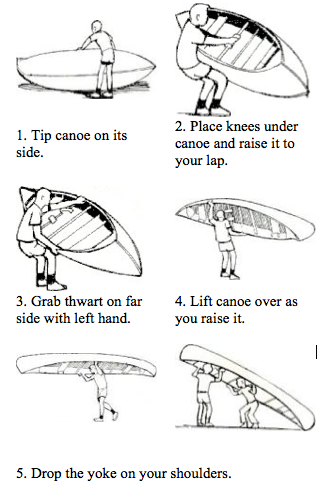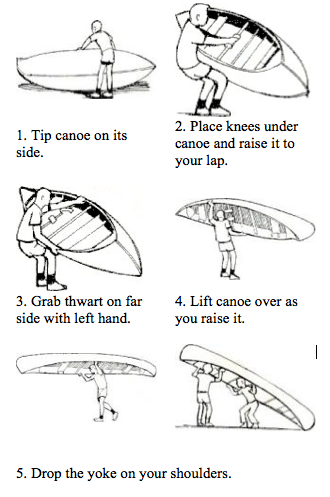 What do we bring?
Selecting the proper clothing for your Northern Lightscanoe trip will assure your comfort no matter what Mother Nature brings. We recommend the following items:
Light weight hikingboots for portaging
Canvas sneakers for around camp
2 sets long sleeved shirt & pants as protection for bugs and sun
One pair shorts and t-shirt
Wind proof jacket or shell
Cotton gloves
Rain suit/poncho
Cap with visor
Two extra pair of socks
Swim suit
Towel, wash cloth & toiletry items
Fishing equipment
Flashlight with new batteries (one per tent)
Compass
First Aid kit
Sunglasses and sunscreen
Camera and film in a water proof inflatable bag
Insect repellent
The most important item you take along on your trip will be your rain suit. Your rain suit will not only protect you from rain, but also act as a wind resistant layer and an additional layer of warmth in cold weather.
Wool socks, fingerless gloves and sweaters also provide extra warmth even when they become damp. We do not recommend cotton as it tends to hold moisture close to the skin causing a chilling effect. Hiking boots or work shoes that are water-resistant keep feet warm and dry when portaging.
Can we drink the water?
While exploring the woods and waterways while on your canoe trip with Northern Lights, keep in mind the importance of eating healthy.
The constant paddling motion, coupled with the energy expended on portages, equals a healthy wilderness appetite. Water intake should equal two quarts per person per day. A well-balanced menu, high in breads and grains, supplemented with plenty of vegetables and fruits, and rounded out with protein will assure you receive the maximum energy needed.
While many visitors drink directly from the lakes, we recommend that water should be treated before used in non-cooked foods and beverages. Treatment options should kill the Guardia bacteria present in most free flowing and stagnant waters:
Boil water rapidly for 15 minutes
Water tablets
Personal water filtration systems
The most inexpensive route will, of course, be boiling. Drawbacks consist of hot drinks instead of cold, and delays in preparing some of the freeze dried foods which require cold water.
Water tablets are quick and easy to use, but do take about 10 to 20 minutes to kill all bacteria, and leave behind a chemical taste. Adding a little fruit drink base to the water helps to mask the unpleasant taste.
Personal water filtration systems come in handy if a group member prefers not to use the method(s) used by the entire group.
To receive the most mileage from a water filtration system (big or small), avoid muddy or sediment filled waters when possible. Backwash the system to remove sediment build-up. Clean filters and system after each trip and store in a dry place.
What should we bring to eat?
With the growing interest in backpacking and canoe camping, the freeze-dried food industry has invested a great deal of money in creating gourmet and easy to make dishes. Although the freeze-dried food will hit the spot out on the trail, choosing to bring along fresh foods and spices will add extra zest to campfire cooking. Potatoes, carrots, onions, cauliflower and cabbage are just a few of the vegetables that will hold up well for the first few days of any trip. Oranges, apples and melon make great snacks and breakfast side dishes.
When selecting produce, try to choose items that are not yet at their peak ripeness. Keep in mind that the pack will create a warmer environment that will cause produce to ripen more quickly. Also, produce will receive more "abuse" from being shifted around during portaging. Avoid soft fruits such as; peaches, plums and nectarines for this reason.
Fresh meats can be taken in for the first several days of a trip. Avoid lunchmeats with milk by products as these will spoil quickly. Meat products should be frozen solid the morning your trip begins. Hamburger works well for your first night out. Thick steaks thaw during the first and second days of travel and provide a savory second night meal. Smoked meats, such as ham or bacon, can be used for any number of days or meals.
Fresh eggs can also be packed in. Special packing containers are available to cradle the eggs and prevent breakage. Do not use eggs that have cracked during travel.
Cheeses can safely be taken in and used to supplement entrees, sandwiches or with crackers. Spreadable cheeses also work nicely provided they do not require refrigeration.
What's cooking?
Over the last ten years, the freeze-dried food industry has made major improvements in their food processing. The texture and food value of many entrees, desserts and vegetables has been greatly enhanced. As a general rule of thumb when preparing freeze dried foods, add an extra ¼ cup of water to 2 man servings and about 1/3 cup to 4 men. Also, double the cooking time shown on the package. This adds extra moisture and flavor to foods.
Adding a few basic spices to your food pack, such as; garlic powder, onion powder, Cajun seasoning, cayenne pepper, salt & pepper and paprika can add wonderful flavor and variety to even a basic dish. The spices also come in handy for seasoning baked or fried fish. Fish fried over a campfire require a medium flame to bring the oil to cooking temperature. Baked fish can be double wrapped in aluminum foil and placed in the flames for 10 to 20 minutes per side (add a small amount of margarine and spices to enhance the flavor). Baked potatoes require about 45 minutes (depending on size) wrapped in foil and placed in the coals. Periodically turn the potatoes.
Even the most perfectly planned menu will be done in vain if the items are cooked over too hot of a campfire. Select wood that is no larger than the diameter of your wrist. Start your campfire at least 45 to 60 minutes before you plan to begin preparing your meal. The best cooking fires are those that consist of mostly coals and a few small flames. Add wood only as needed to maintain the small flames. A fire of large roaring flames is best saved for after the meal.
Tasty, memorable trail cuisine begins with a good campfire and a creative mind. Good cooking and happy trails.
What if we bring the kids?
With younger children, consider traveling no more than a few hours per day. Or, use Northern Lights Resort as a base camp which allows you to take day trips into different areas without having to set up and take down a new camp each day. We do offer one, two and three day trips. Maybe a short overnighter may be a good test.
We provide you with all sizes of life jackets approved by the CANADIAN COAST GUARD and a safety kit consisting of a bailing bucket, flash light, sounding device and a floating throwing line. All approved by the coast guard as well. Our 15' COLEMAN unsinkable canoes are very durable and bright red. Good for emergency sightings. We supply the paddles and have seat/knee cushions available upon request. Maps are plentiful and we suggest several to be taken in case one gets wet.
Your family vehicle is locked and secured on our PRIVATE property, where it awaits your safe return. We do have camping sites set aside for our canoeists. These can be available for either your arrival OR your return from your canoe trip, OR both if you wish!
When you and your family are out exploring the streams and portage trails you travel over, watch for our abundant wild life. Aquatic Critters easily spotted along the way include, Crayfish, minnows and a variety of frogs. Ruffed grouse, pine squirrels and chipmunks frequent the portage trails and your camp site. Imagine the excitement as your little ones feed a "chippy" right from their own hands.
DO, bring along some field guides to use as references to the new wonders you and the little ones will discover. Especially, if you are not familiar with the many common plants, wildlife and birds yourself.
A child's enthusiasm is easily swelled by allowing them to carry their very own pack filled with clothing, personal items and their very own sleeping bag. A separate smaller pack can hold your field guides, maps, traveling games and books during the trip. Some of these can come in very handy during a rainy day or in the evening before bed. Do try to get them to leave the "game boy games" at home though!
A fun suggestion is at the nightly campfire; acquire their help in marking the route traveled that day onto your master map. Get them to sketch onto it the exciting places you explored and the new things they learned. Maybe even the lucky WILDLIFE sightings. These special times make for the magical moments to last for a life time of memories. The map will definitely hold a special wall hanging spot when returned home!
One item of note; we at Northern Lights do not allow you to bring onto our property ROVER, SPOT or KING. We do have a remarkable healthy population of chipmunks and we encourage guests to hand feed them. So we might get some grumbles from them seeing them harassed, killed or even eaten. Thank you for your cooperation in this matter.
What if someone gets hurt?
A common concern for those who take a canoe trip with Northern Lights is what to do if there is an emergency. Here are a few procedures to help you in the event of an emergency while on your canoe trip. Please keep in mind that in most instances you are not more than an hour away from medical assistance.
Even in the most remote areas of either wilderness, there are usually other people passing by. If the injured person cannot be moved, send several messages out with other parties in the area. Emergency help will be dispatched immediately. Visible distress signals that can be picked up by overhead float planes are; three small campfires placed in a triangle, anchoring a canoe (if you have more than two canoes in your party) in the middle of the lake, or making a large fire and placing green branches on it to create a smoky fire.
If the injured person can walk without creating additional harm to them, take your two best paddlers, raingear, and a supply of food and paddle them out to the first sign of help. Traveling with your best paddlers and an empty canoe will be much quicker.
A popular item that works in a very limited area is cellular phones. Some visitors do carry them along on trips, but frequently find that cellular phones will only work on their first and last days (due to the high cliffs, mineral deposits and location of cells in our area). Cellular phones should not be relied on as your only means of assistance.
Some of the most common minor injuries that occur during the canoeing season are; cut feet due to swimming or walking without shoes, fish hooks, campfire burns, sunburn, dehydration and pulled muscles. Both minor and major injuries can be avoided by canoeing, portaging and relaxing within your own limits or capabilities. If you aren't a rock climber or cliff diver prior your wilderness adventure, don't decide to try it out on your trip. Watch your water intake (most adults require at least two quarts per day), use sunscreen and portage at an easy pace. Trying to carry too much or doing a portage carrying everything in one trip is guaranteed to pull a muscle, twist an ankle or create a miserable canoe camper. Second trips on portages take a bit longer, but the opportunity to see that grouse or rapids you missed on the first trek across will more than make up for the lost time. You are on your vacation – a time you have set aside especially for you to do something fun and enjoyable.
What do I do if I encounter a black bear?
Chances are you could see a Black Bear on your trip, but with some education and common sense no harm will come to you.
Except during breeding season and while raising their young, bears are generally shy, retiring, solitary animals. They try to avoid humans and are considered non-aggressive except when injured, protecting their young, or protecting themselves. The bear tends to escape from human presence. Bears are most active in the cool of the evening or early morning. During the heat of the day, they will seek shade in dense underbrush.
Bears can feel threatened if they are surprised. Hike in a group or make noise as you hike. Whistle, talk, sing, or carry a noise-maker. Most bears will leave if they are aware of your presence. Stay in the open as much as possible. Be especially alert when traveling into the wind – a bear may not get your scent and be forewarned of your presence. And, in dense bush and near rushing water, the animal may not hear your noise-maker.
Move on if you come across dead animals or berry patches, important food sources for bears. Bears mostly eat plant life, but will eat meat when available, and may be nearby.
Leave your dog at home. Fido might come across a bear and may come running back to you with the bear in pursuit! Keep children close at hand on trails.
Avoid wearing strong cosmetics, perfumes, hair sprays, and soaps.
Menstruating women should be extra careful. Bears can pick up the scent of blood.
Set up cooking, eating, and supply areas at least 100 yards from your sleeping area. Suspending your food in the air is the best thing to do. Clean utensils and cookware away from your tent as well, and then dump dishwater at least 100 yards from your sleeping area. Put garbage and leftovers in containers immediately after eating. The lingering odors of food invite bears, so you don't want those odors near or in your tent at night.
Change your clothes before going to bed — do not sleep in the same clothes you cook in, or in the clothes that you carried snacks in during the day.
Treat personal items (such as deodorants, toothpaste, make-up, soap, and lotions) just like food as far as storing for the night – any odorous product, including inedible items like candles will attract bears.
Most bear encounters occur in camp when the bears smell food and come looking for the source. If it's well out of the way or inaccessible, there are rarely problems for the campers – the bear loses interest and moves on. But once a bear finds easy food at a camp, their behavior can quickly become dangerous as they start to expect food from any human camp.
You may still encounter a bear wandering during its daily travels. Upon spotting a human, the naturally curious bear will either run away, or stop to check you out.
If you see the bear before it sees you, stay calm and quietly back away. If the bear has seen you, talk in a soft to normal voice, so the now-curious bear can determine you are a human – that may be enough for it to want to leave. If a bear rears on its hind legs and waves its nose in the air, it is trying to identify you. A standing bear is curious, not threatening.
Avoid direct eye contact as bears may perceive this as a threat. Don't make any sudden movements, throw anything, or yell. If necessary, back away slowly to give the bear plenty of room to escape – including the right-of-way on the trail.
Watch the bear for aggressive behavior–snapping its jaws together, making a "whoofing" sound, or keeping its head down with ears laid back. Consider any bear that moves toward you aggressive. If the bear does not seem to be displaying aggressive behavior, talk softly in monotones and slowly back up. While you're at it, slowly take off your pack – that may distract the bear for a bit and give you more flexible options if things go bad. But remember, wild bears rarely attack people unless they feel threatened or provoked.
If a bear charges toward you, make yourself tall and stand still. Bears often "bluff charge", and then veer off at the last minute. But again, do not run – including to the nearest tree unless you are sure you can climb at least 10 feet before the bear reaches you. Black bears are agile climbers anyway, but may not be inclined to come up after you.
If a bear roams into your camp at night, and has no food easily accessible, it will probably wander back out in a bit. If not, you can try to scare them off by making a loud, deep noise, or bang a shoe against a pot. That'll probably scare it off. If the bear tries to get into your tent, yell loudly and try to get the heck out ASAP.
Lastly, if attacked by a black bear, don't play dead, but fight like your life depended on it – it might. Throw things, kick, yell – whatever you have to do. Black bears are rarely itching for a fight, and will likely just take off if you fight back. Now that you know all this, relax. You're much more likely to get strike by lightning than have an encounter with a bear!
Canoe trip ethics
A wilderness experience can be many different things. Some love the solitude, others the fishing, still others crave the challenge of travel and exploration. One common thread that runs through everyone's trip is the love of the outdoors. The opportunity to see wildlife, hear the enchanting cry of the loon and feel the warmth of an evening campfire draw visitors from around the world to visit wilderness areas.
When planning a canoe trip, leave behind the music, electronic gadgets of the 20th century and prepare to enter the world of yesterday. There are no schedules, deadlines or needs here. The lack of noise producing gadgets will allow one to fully appreciate the solitude. Speaking in a regular voice as opposed to yelling or shouting will also provide a pleasant atmosphere. It's amazing how sound travels across the water!
A skilled woodsman is thoughtful and courteous not only to his neighbor, but to the next traveler to visit a campsite. Leaving campsites cleaner than found with a small stack of firewood near the fire grate are silent ways to show courtesy to future visitors.
When collecting firewood please do not cut live trees. There are plenty of deadfall that can be used. And please do not peel the bark off live trees as this damages them and leave them open for attack from insects and eventual death. When you are finished with your camp fire be sure to completely douse it with water. The wind can come up through the night and reignite the fire and possibly the forest around it. The coals should be cold to touch with your bare hand.
Can we catch fish?
One of the best FISHING TIPS that we can give you is to go through your tackle box and see what you already have before you go out and buy anything new. The biggest factor in being a successful fisherman is knowing how your lures work. Chances are you probably own many types of lures whose action you are very familiar with and which could work in our area.
For walleye and smallmouth, select an ultra-light rod and reel approximately 5-1/2 feet in length. Open face spinning reels as opposed to closed face reels are often preferable because many times the line becomes tangled under the cover of closed reels. Fishing line in the 6 to 8 pound test range is most desirable.
Medium action set-ups are most well suited for northern pike and lake trout. A stiffer rod about 5'6″ to 6′ in length works well. Again, an open faced reel is preferred. Use 10 to 12 pound test.
Some experienced fishermen will use bait casting rods to fish with. While they work well, learning to use them on a wilderness canoe trip is not a desirable situation. Bait casting rods can be very touchy, backlashes are common, and it is inevitable that the urge to throw them in the lake will enter your mind at one point or another.
Fly fishing for smallmouth works best with cork poppers and hair bugs with about 6-8 weight floating line. Use a 6-10 pound leader/tippet. The early morning and evening (just before sunset) are the best times for fly fishing. (The water tends to be at its calmest.) You could also choose to use large streamers or mega divers if you are interested in fishing for pike. Use sinking line for streamers and floating line for bugs & poppers.
To produce some of the best fishing ever while on your canoe trip, you need to choose the tackle you bring carefully and sparingly. The following are some of the names and descriptions of the more popular lures used in our area.
LEAD HEAD JIGS – various sized hooks weighted with lead. Usually 1/8 ounce to 1/4 ounce sizes is preferred for walleye and smallmouth. Use 1/16 ounce and 1/8 ounce for pan fish.
SOFT JIG BODIES – plastic molded bodies which resemble worms, grubs, frogs, lizards, leeches or crawdads. The most popular style is the grub body. Use a 2 to 4 inch body for walleye and smallmouth. Use a 1 to 1-1/2 inch body for pan fish. White, black, yellow, motor oil and pumpkin seed are the most productive colors for our area.
RAPALAS – brand name for top water and subsurface lures. Rapalas come in many shapes, sizes and styles. Rapalas in the 3 to 4-1/2 inch range will work the best. Perch, Black & gold, black & silver and crawdad are our top color picks.
SPOONS – oval shaped metal with a hook on the end. The best sizes will range from 3 to 4 inches in length. Solid silver, red & white, black & white, and yellow with red diamonds are productive colors.
SPINNER BAIT – any variety of lures that consist of a rotating blade or blades. The two main types are a straight shaft (i.e. Mepps Spinner), and safety pin type spinner bait. These lures are most commonly used for bass & pike.
CRANK BAIT – generally any plug type body with some type of lip on the front of the lure. These lures take on many shapes and sizes, and the length of the "lip" will determine how deep the bait will run when "cranked" in.
SPLIT SHOT SINKER – a small ball of lead, typically partially split which can be placed directly on the fishing line to add weight and depth to lures.
BULLET SINKER – used in combination with a slip shot or lead head jig. The bullet sinker slides loosely on the line that allows for variation in depth and extra weight.
Fishing Techniques
STILL FISHING
 – the method of fishing that usually involves the use of a bobber to suspend live bait at a certain depth. Two techniques that are commonly used are a fixed bobber (simply clipped on your line) and a slip bobber.
TROLLING – moving at any pace across a body of water trailing a lure (frequently a spoon plug, crank bait, rapala or spoon). Extra line should be let out to allow for deeper depth.
SCULLING – technique using a canoe paddle in a figure eight motion to slowly propel or control the SPEED OF THE CANOE. Most commonly used while fishing.
REEF – submerged rock piles that vary in size and depth. Preferred by walleyes during the warm summer months.
POINTS – spits of land that jut out into the lake from a larger land form. Smallmouths frequent these landmarks through out much of our season. Walleye tend to locate near points in the spring.
NARROWS – areas where points come together and create restricted water flow. Walleyes sometimes prefer these areas during the summer when reefs are not available. Late evening and night-fall fishing in these areas produce fantastic walleyes.
WEED BEDS – large growths of weeds that provide cover and cool oxygenated water, primarily for large Northern. Dead and dying weed beds will not be productive. Small weed beds may produce some pan fish (crappies, bluegill or perch).
Northern Lights Area trees and plants
As you look across the horizon, to begin to separate the thousands of plant species native to our waterways, a closer look you begin to distinguish between the varying shades of green – the moment of discovery has begun!
We will try to introduce you to some of the more common plants native to our area. Unfortunately, due to space restrictions, we cannot introduce you to all of the species you may encounter. For additional information on all of the north woods plants, consult a North American Plant field guide.
The white pine is a familiar sight. Its cluster of five soft thin needles gives it a delicate appearance when young. As the pine matures it stands out on the shoreline with its impressive size. Used during the logging era as main masts for ships, the white pine is now a common sanctuary for bald eagle and osprey nests.
Red pines grow to tremendous size also. You can distinguish them from the white pine by their long clusters of two needles (approximately 4 or more inches in length). The bark of a red pine will also have a reddish cast.
Like the red pine, the Jack pine also has clusters of two needles. You can distinguish the two from each other by the short length of the Jack Pine needles (typically less than 2-1/2 inches in length) and the gnarly, rough appearance of its limbs and bark.
Both Black & White spruce inhabit our area. Spruces have individual needles attached directly to the branch. The needles grow around the entire circumference of the branch. The individual needles are roundest in shape.
At first appearance, the balsam fir looks much the same as the spruce. Several differences do exist which will make distinguishing between the two possible. The Balsam fir grows needles only on two sides of the branch – rather than all the way around as the spruce does. The Balsam needles are also flat and have a faint white stripe on the underside of the needle.
Traveling through wet, marshy areas you will undoubtedly encounter Tamarack. Tamaracks have clusters of very light green needles about one to two inches long randomly dispersed through out its branches. The Tamarack never really fills out and will have a sparse, almost sickly appearance. Many of the north woods lakes receive their lightly stained color from the acids emitted from the Tamarack's roots.
A deer's favorite winter meal consists of cedar; an unusual and unique looking tree. The cedar has flat groupings of scaly leaves or needles. Cedars love low-lying wet areas especially near rapids and shorelines. The light brown scruffy looking bark hides a strong wood excellent for building. The cedar also has a refreshing scent.
It is a temptation to pull the white peeling bark from a birch tree, but please don't. Removing bark from trees exposes it to bugs and disease and a certain death. Young birch trees have a deep reddish brown bark.
Both the Trembling and Large-toothed aspen are native to our wilderness areas. The creamy light green bark and "trembling sound" of their rustling leaves will help you to identify them. Aspen grow quickly and reproduce through an underground root system that produces "suckers" or young trees.
Red Osier Dogwood is a common low growing shrub. Its deep red bark and white flowers in spring and white berries in summer, give it a distinctive look. To tell if you have a dogwood, gently split the leaf in half. If the leaf holds together by thin transparent fibers, you have found a member of the dogwood family
Another low growing shrub that grows throughout the north woods is Beaked Hazel. Beaked Hazel can be distinguished by is grayish light brown bark with white speckles
Alders, a common meal for beavers, grow in marshy wet areas and along shorelines. Often, they grow directly out of the shallow water. Their dark brown bark, deep green leaves, catkins (long thin yellow growths) and fruits (small brown pine cones) help identify them from other shoreline shrubs.
Common to wetlands and cedar & spruce bogs, Labrador Tea is a low growing shrub. The leaves are long, narrow and leathery with a soft muted green color. Labrador tea was commonly collected by Native American and Voyageurs and dried for tobacco and tea
A low-lying plant often seen along portage trails, bunchberry consists of whorls of four or six leaves. Plants having white flowers in the spring or red berries in the summer will consist of six leaves.
Wild Sarsaparilla is an unusual looking plant. A main stalk rises from the ground which then splits into three branches. Each of the branches typically has five leaves. Greenish-white flowers adorn the plant in the spring and deep purple to black berries in the summer.
Search out the shady spots of a portage trail to find a unique treasure – the Blue-Bead Lily. With a set of three "lily" petals and a single stalk rising from the center, the Blue-Bead Lily has a cluster of light green flowers in the spring that develop into brilliant blue beads in June. The "beads" resemble small plums and are very poisonous.
The canoe routes have a variety of edible plants and berries. Blueberries, raspberries, pin cherries and many others can be found throughout your travels. Remember, however, if you aren't sure of the plant you plan to eat or eat from, DON'T EAT IT! Always practice common sense and remember that you are traveling in a wilderness area. Immediate medical attention can be a day or more away.
Our Cottage Rentals, are clean, modern and fully equipped. Each cottage offers a breath taking view of the lake and all are within steps of our sandy beach and crystal clear water. Our extra clean cottages rentals offer you all the comforts you need to enjoy your family vacation.